Castel di Sabbia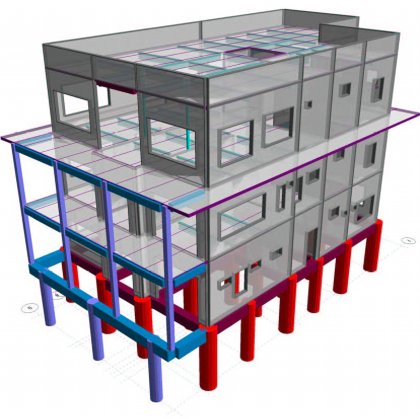 The Castel di Sabbia, or Castle of Sand, is a large residential structure located in the harsh environment of Rockaway Beach, Oregon. This four-story, 10, 000-square-foot structure is located in a high wind region, high seismic region, and corrosive environment of the Oregon Coast.
Miller Consulting Engineers, Inc. provided structural engineering services for this single-family dwelling utilizing advanced computer aided design techniques to develop a three-dimensional structural model. This structural model was used to evaluate the structural performance of this building. Although advanced computer aided design techniques are not often used for single-family dwelling structures, since this building utilizes concrete and steel construction, the use of these tools offers an efficient method of design that can be used on residential or commercial projects. This structural modeling technique allowed for a fast and efficient method of minimizing the structural elements, which resulted in a reduced construction cost to the owner.
The design of the concrete walls on this structure utilize insulated concrete forms (ICF). Insulated concrete forms are a recent innovation in concrete construction. Traditional cast-in-place concrete construction utilizes wood, or metal forms to support concrete during the placing process. ICF are specialized forms fabricated from polystyrene that remain in place after concrete is cured. The use of ICF eliminates removal of formwork and provides insulation for the completed wall construction.
The design was further complicated by poor soil conditions at the site. As a result, the concrete structure was supported on drilled concrete piers with concrete grade beams.
---
Miller Consulting Engineers has made a commitment to continue to invest in training our staff in new construction techniques and acquiring the latest structural design tools available so we can provide our clients additional value in our services. By staying current in the latest methods and techniques of design, we are able to provide our clients with additional alternatives that would otherwise be unavailable to them. Our experience in a wide array of structural projects gives us a distinct competitive advantage.